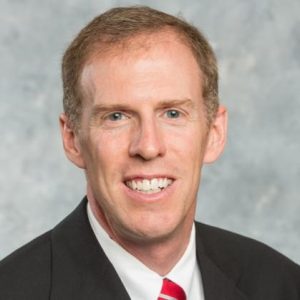 Thomas Goldsby (Ohio State University)
Professor in Business and Professor of Logistics                                             .
Dr. Thomas J. Glodsby is the Harry T. Mangurian, Jr. Foundation Professor in Business and Professor of Logistics at The Ohio State University. Dr. Goldsby holds a B.S. in Business Administration from the University of Evansville, M.B.A. from the University of Kentucky, and Ph.D. in Marketing and Logistics from Michigan State University.Dr. Goldsby is Co-Editor-in-Chief of the Journal of Business Logistics and former Editor of Transportation Journal. He serves as Associate Director of the Center for Operational Excellence (COE), a Research Fellow of the National Center for the Middle Market, and a research associate of the Global Supply Chain Forum, all housed at Ohio State's Fisher College of Business.His research interests include logistics strategy, supply chain integration, and the theory and practice of lean and gile supply chain strategies. He has published more than 50 articles in academic and professional journals and serves as a frequent speaker at academic conferences, executive education seminars, and professional meetings.  He is co-author of five books: Logistics Management: Enhancing Competitiveness and Customer Value (MyEducator, 2015),The Definitive Guide to Transportation (Financial Times, 2013), Global Macrotrends and Their Impact on Supply Chain Management (Financial Times, 2013), The Design and Management of Sustainable Supply Chains (Cambridge University Press, 2016), and Lean Six Sigma Logistics: Strategic Development to Operational Success (J. Ross Publishing, 2005).
Dr. Goldsby is a recipient of the Best Paper Award at the Transportation Journal(2012-2013), Bernard J. LaLonde Award at the Journal of Business Logistics (2007), and has twice received the Accenture Award for best paper published in theInternational Journal of Logistics Management (1998 and 2002).Dr. Goldsby has received recognition for excellence in teaching at Iowa State University, The Ohio State University, and the University of Kentucky. He delivered a course on Business Operations for The Great Courses' Critical Business Skills series in 2015. He is recognized as one of the most productive researchers all-time in the field of Logistics Management.